PE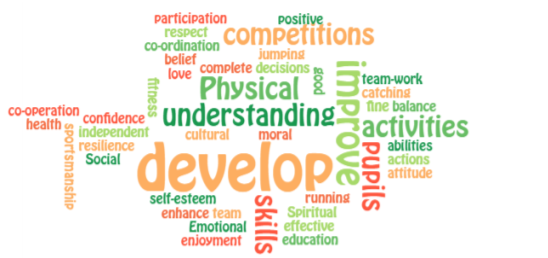 PE, Sport and Physical Activity
At Studfall Juniors we are very enthusiastic about sport and physical activity. Full use is made of our large playground spaces, field and two halls to offer progressive PE lessons, afterschool clubs, school -team practices and active playtimes.
Curriculum PE
We offer a broad and balanced PE curriculum with all year groups receiving games, gymnastics and dance lessons each year. All children in Y3 have swimming lessons. Visiting coaches support some curriculum delivery and the children have enjoyed learning cricket skills from Northants Cricket's Chance to Shine programme, Corby Tennis Club and Northampton Saints.
Sport For All
We appreciate the benefits of sport and physical activity for all our pupils. We provide a range of activities to introduce our children to new experiences, give them opportunities to be active together, improve on individual skills and see the benefits of a healthy lifestyle. A sports coach works in school for one day a week taking small groups of children to do physical and mental challenges. All children in Y5 are offered the chance to take part in the local "Kids Of Steel" Triathalon. Equipment is available at lunchtimes for children to design their own active games whilst a separate section of the playground is made available for football. Skipping is really popular with large groups of children of all ages competing to see who can do the most consecutive skips – well over 200!
Studfall Juniors takes part every year in National School Sports Week. The usual timetable is adapted for a week of sports activities and cross –curricular sports inspired work. Each year group is visited by coaches from local clubs, parents can join in too! Not only does this week introduce children to new sports but has been a great way for Studfall Juniors to make links with local clubs and encourage children to attend these out of school. Included within this are netball, rugby, dance,Tae Kwon Do, tennis, table tennis, bowls, cheerleading and lawn bowls.
Competitive sport
As part of the local School Sports Partnership we enter teams for a variety of competitions. We are always proud of the way Studfall pupils conduct themselves and their sense of fair play.
Studfall Winners! Well done to the following teams who won the local competition and went on to play in County finals:
U11 Netball League and tournament winners 2017
U9 Gamble Cup Football 2017 and 2018
Sportshall Athletics 2017 and 2018
Boccia 2016 and 2017 Sportshall Athletics 2019
Athletics 2019
Cross Country January 2020
Winners - Sportshall Athletics January 2020
In 2019 we also took part in the GAT Games for the first time and the GAT Dance festival.